About Atlas Cases
Atlas Yesterday and Today...
HISTORY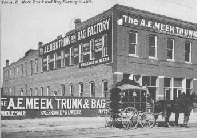 Atlas Case Corporation was originally the manufacturing segment of the A.E. Meek Trunk & Bag Company, founded in Denver in 1876 by Arthur Edmond Meek. A.E. Meek had left Nova Scotia in the 1860's, and arrived in Denver at a time when the Colorado gold and silver mines were booming. In 1905, Arthur, now working with brothers Leonard and Rupert, built a factory at 2433 Curtis Street and set up a separate retail store at 1035 16th Street. In 1932, the Curtis Street factory was organized as a separate business, The Atlas Luggage Company. From 1932 until 1986, the Atlas Luggage Company specialized in building trunks, suitcases, fabricated fibre sample cases and telescoping cases.
CURRENTLY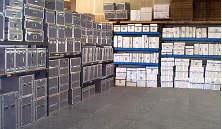 In 1986, we moved into our new building on Cherokee Street and the business became known as the Atlas Case Corporation to reflect its new focus on industrial and commercial case applications. Since 1986, we have expanded our case offerings to include not just fabricated cases, but a broad selection of the best roto-molded, thermo-formed and injection-molded cases in the industry.
At Atlas Case, we pride ourselves on our ability to listen to our customers and respond with cost-effective, high quality case solutions. We will work with you to provide you with the right case and the correct options. Since we offer 20 different case styles and have more than 1,000 cases in stock, we can usually come up with an off-the-shelf solution if you're pressed for time. If you need to add wheels, partitions, shelves, ramps, telescoping handles or other features to a standard or custom case, just ask us. We'll listen.